Personal accounts
Personal accounts for each Viewer who connect to NOIP. Create login and password for Viewer, define access rights, keep logs, control licenses and manager address book of Viewer. Use empty user (account) for Viewers without login and password (without account).
Manager account on Authorization/Account page.
Users accounts it is main window for account management.
Add new account - creates new personal account.
Edit account - edit current account in list.
Delete account - delete current account in list.
Logs page with global settings for account logs.
Add all Viewer's log events in main log - turn on this options if you want to log all accounts event in main xml NOIP log. Main NOIP log must be active.
Open main log - opens main NOIP log window.
Keep a personal log for each account separately (.xml) - store logs for each account in xml format.
Keep a personal log in text format for each account separately (.txt) - store logs for each account in txt format.
Personal accounts path - path to Personal accounts folders.
Split logs by days - split logs files by days.
Options page. Advanced options for accounts.
Viewers encryption RSA/AES - turn on additional strong RSA/AES encryption for Viewers. Encrypt all data between Viewer and NOIP.
Only one Viewer per user account - only one Viewer connection for personal Account, prevent multiple Viewer connection to personal account.
Update viewers.
Use auto update for Viewers (ROMViewer.exe) - turn on auto update for ROMViewer.exe.
Path to ROMViewer.exe - new ROMViewer.exe for update.
Update version - version of new ROMViewer.exe. (is taken from the file automatically)
Notify user about updating - notify user before restarting of Viewer.
Synced address book page.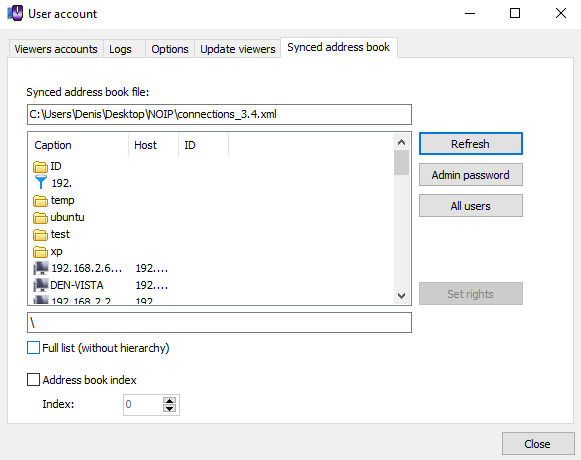 Common address book when used address book synchronization.
Full list (without hierarchy) - contacts list without hierarchy.
Address book index - specify index of address book if it was use for address book sync.
Admin password - password of admin for common address book.
All users - all users list of common address book.
View and edit address book users list, add Personal accounts users to address book users.
Set rights - the function of setting the access rights of users of the address book (personal accounts) to contacts and groups.
Pick group or contacts from the list and set access rights.
Create/edit new account. User account window.
On User page located main information for account such as login, password, access rights.
Login - login name for the account.
Password - password for the account.
Confirm password - password for the account.
Comment - additional text information for the account.
Empty user (default account, without login and password) - turn on this option for activating default account for Viewers without personal account.
Access rights - access rights for the account.
ID connections - access to connections by ID through NOIP.
Viewer can view the servers list - access to ID list of LM Servers on NOIP. (option works if turned on access to ID list in main NOIP options)
Address book sync, logs sync, chat sync, ticket sync - access to synchronization functions. (synchronization must be active in main NOIP options)
Server settings synchronization - access to servers settings through sync. (Server settings control — Centralized server settings control through NOIP)
Disable user account - turn off the user account, without deleting it.
Default account for Viewers without login and password.
Logs page for account.
Personal account folder - opens folder for the personal account data.
Name of account folder - folder name for the account.
Keep personal log (.xml) - store personal logs in xml file.
View all logs for accounts in personal logs list. Select and view the log from the list.
Licenses page for account.
List of the key of Viewer. Select the key in list and click on Delete button, after that key get the status Deleting, if need to remove the key from list click on Delete button again.
Add new key in list, it get source <NOIP>, after that new key will be transferred to Viewer keys list.
Address book page for account.
Store the address book (connections file) of Viewer on the NOIP.
Disable (don't keep on NOIP) - by default address book do not stored on the NOIP.
Keep copy of address book - to store copy of the Viewer connections (address book) on the NOIP. All contact synchronize between the Viewer and the NOIP.
Keep all contacts only on NOIP - to store address book of the Viewer on the NOIP, without local file (connections_3.4.xml) on the Viewer. Address book file will be empty on the Viewer side.
Address book file - path to address book file of the account.
Connections list - contacts list of the account, connections and groups.
Full list - show connections list without group hierarchy.
Possible to delete or copy contacts between accounts.
Advanced page.
NOIP synchronization - address book synchronization settings on Viewer side. Turn on address book sync (Ebable sync) with current personal account settings.
Turn off address book synchronization - turn off synchronization on Viewer side.
Provide access to LM Servers automatically (NOIP Authorization) - allows this account for automatic authorization on the LM Servers. On the LM server side, it is necessary to enable NOIP Authorization and allow NOIP accounts automatic access.
LM Permissions - permissions for the account on LM Servers.
Link to the domain account (Use with Authorization - WinNT security) - link this account to the domain (windows account) user. The link works when WinNT security is enabled on the Authorization tab, after passing the WinNT security authorization, this account will be automatically linked to the user (viewer).
Domain account - specify the domain (windows) account is linked to this account.